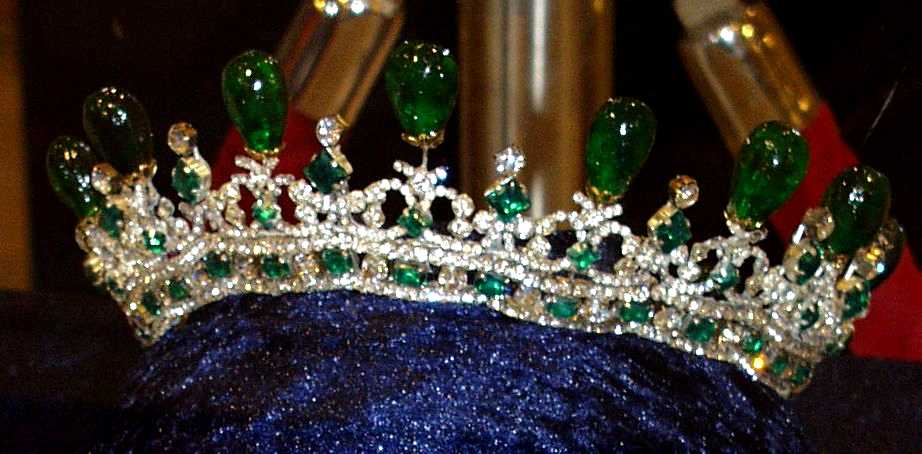 Queen Victoria's Diamond and Emerald Tiara (reproduction)
Photo Source: Naergi's Costuming Site
Prince Albert was a man of many talents, not the least of which was his keen eye for jewelry design. His greatest designs were reserved for his bride, Queen Victoria, and each of his gifts were flush with symbolism, beauty, and affection. Some of the most exquisite of these gifts were three tiaras he designed and commissioned in the early 1800s.
The first of these dainty crows is called
Queen Victoria's Diamond and Emerald Tiara
. Fashioned by goldmsith Joseph Kitching of Collingwood &amp Son in 1845, this tiara reigns as a supreme example of the neo-Gothic (Gothic revival) style of the 19th century. This circlet features quatrefoil patterns from which emerge alternating spikes. The longer spikes are tipped with large cabochon emeralds, while the short ones are crowned with a single kite-shaped emerald topped with a round white diamond.
The base of the diadem consists of two parallel bands studded with hundreds of brilliant-cut diamonds. Between the two bands, cushion-cut emeralds alternate with vertical bars mounted with two round brilliant diamonds. As early as 2002, experts surmise that this beautiful crown was sold and possibly dismantled. No one with a camera has seen it since it was loaned for display during a Wartski ehxibition in 1997. The picture featured above is a reproduction.
Queen Victoria's Sapphire & Diamond Tiara
Photo Source: Marie Poutine's Jewels & Royals Blog
The second of these tiaras, also in the neo-Gothic style, is known as
Queen Victoria's Sapphire and Diamond Tiara.
This tiara is featured in an 1842 portrait of Her Majesty by Franz Xavier Winterhalter, as well as in a portrait by Richard Graves from 1874.
This elegant diadem features an ample base of silver and gold set with large cushion- and kite-cut sapphires, interspersed with intricate metalwork that is studded with white diamonds. Extending from the base are sweeping spikes alternately tipped with a single diamond or a trio of diamonds in the neo-Gothic trefoil pattern.
Most recently, this beautiful tiara emerged from the private collection of the Earl and Countess of Harewood in order to make an appearance at a charity event hosted in January of 2012 by Geoffrey Munn of Antiques Roadshow.
A digital rendering of Queen Victoria's Strawberry Leaf Tiara
Photo Source: The Royal Watcher
The third of these tiaras, called
Queen Victoria's Strawberry Leaf Tiara
, once shimmered with the red light of rubies set in the base, the band, and the spikes. However, in 1933, Cartier was commissioned by Lady Irene Denison, the wife of Victoria's great-grandson, the Marquess of Carisbrooke, to remove the rubies and replace them with diamonds.
In its present state, the crown is paved solely with diamonds set in exquisite strawberry leaf patterns along the base and upon the ornate spikes of the crown. Two parallel bands of diamonds, joined by single-set round brilliants, encircle the entire crown above the strawberry leaf base.
Resting upon this central banding are spikes topped with clusters of diamonds alternating with large kite-shaped diamonds. Like the emerald and diamond tiara, the whereabouts of the strawberry leaf tiara are currently unknown.
BIBLIOGRAPHY
1. "Strawberry Leaf Tiara: Princess Beatrice." Royal Magazin. Accessed June 24, 2012. http://www.royal-magazin.de/england/queen-victoria/strawberry-leaf-beatrice-mountbatten.htm.
2. Silver Collection. "Hallmarks of English Silver Maker's Mark Identification." Accessed June 24, 2012. http://www.silvercollection.it/ENGLISHSILVERMARKSXA.html.
3. Pam on Fifth Blog. "A Gothic-Revival-Inspired Tiara." January 22, 2012. Accessed June 24, 2012. http://blog.pamonfifth.com/slide/a-gothic-revival-inspired-tiara/.
4. A Fashionable Frolick Blog. "The Tiaras of Queen Victoria." April 26, 2011. Accessed June 24, 2012. http://fashionablefrolick.blogspot.com/2011/04/tiaras-of-queen-victoria.html.
5. Jewel Info 4 U. "The Jewels of the British Monarchs Part 2 - Victorian Era." Accessed June 24, 2012. http://www.jewelinfo4u.com/The_Jewels_Of_The_British_Monarchs_-_Victorian_Era.aspx.
6. Gere, Charlotte. American & European Jewelry, 1830-1914. Crown Publishers, 1975.
7. Heathman. "Queen Victoria's Tiara Turns Up in a Highgate Home." January 25, 2012. Accessed June 24, 2012. http://www.hamhigh.co.uk/news/queen_victoria_s_tiara_turns_up_in_a_highgate_home_1_1186490.

*Clip art courtesy of The Graphics Fairy