Etruscan Style Wedding Band
Image Copyright 2012 EraGem Jewelry
Image used with permission.
The Grand Victorian Era, also known as the Mid Victorian period, was marked by greater wealth among the upper and middle classes. This allowed more young men and women to travel abroad, which in turn led to more exotic influences in design.
While on these "Grand Tours," the wealthy brought all manner of trinkets home from places like Italy, Greece, and Egypt. As the years marched on, the styles and techniques of these exotic treasures, many of which were various jewels, were then emulated by leading jewelers of the day.
Handcrafted by artisans in London, Etruscan revival designs featured ornate engravings, subtle geometric lines, and alluring gemstone combinations including pearls, coral, shell, and turquoise.
Intricate filigree and scrollwork settings began to emerge, heavily influenced by travel to Greece, and the newly discovered tombs of Egypt inspired gemstone-studded wedding bands fashioned into curling serpents.
Grand Victorian Era engagement rings are best characterized by their silver, rose gold, or 18k gold settings designed with more sophistication and less ornamentation than in the 1840s and 1850s. The most popular style of wedding bands were the three-stone or five-stone half hoop rings made of 18k yellow gold.
These elegant rings featured blue sapphires, rubies, emeralds, and/or diamonds. Popular combinations included three-stone rings with a colored center stone flanked on either side by diamonds, a five-stone ring featuring a colored stones (typically ruby or blue sapphire) alternating with old-cut diamonds, further accented by tiny diamond points.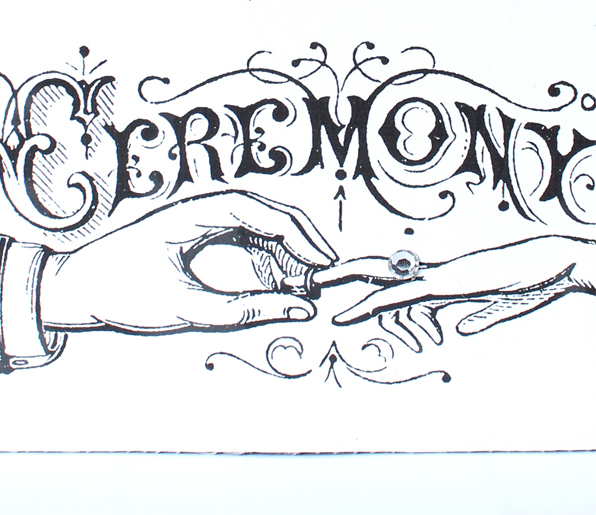 BIBLIOGRAPHY


1. "American Jewelry: An Historical Timeline." Antique Jewelry University, accessed January 13, 2013. www.langantiques.com/university/index.php/American_Jewelry:_Part_III.
2. "Antique and Vintage Designs." Rings with Love, accessed January 13, 2013. www.ringswithlove.com/antique-vintage-designs.
3. "Antique Engagement Ring Settings." Engagement Ring Settings, accessed January 13, 2013. www.engagement-rings-settings.com/antique-engagement-rings.htm.
4. Bradley, Tara. "Victorian Engagement Rings (1830s-1900s)." Destination Weddings & Honeymoons. Accessed January 13, 2013. www.destinationweddingmag.com/gallery/victorian-engagement-rings-1830s-1900s.
5. "Elegance of a Victorian Wedding, Part II, The." Hudson Valley Weddings, accessed January 15, 2013. http://www.hudsonvalleyweddings.com/guide/victorian2.htm.
6. Fragoso, Lilyanna. "Engagement Rings in the 18th and 19th Centuries." eHow. Accessed January 13, 2013. www.ehow.co.uk/info_7911740_engagement-rings-18th-19th-centuries.html.
7. Harlow, George E. The Nature of Diamonds. Cambridge Cambridge University Press, 1998.
8. "History of Jewelry, The." Brilliance Jewelry, accessed January 13, 2013. www.brilliancejewelry.com/history/index.html.
9. "History of Wedding Rings, The." Everything Wedding Rings, accessed January 13, 2013. http://www.everything-wedding-rings.com/history-of-wedding-rings.html.
10. "Keeper Ring." Antique Jewelry University, accessed January 13, 2013. www.langantiques.com/university/index.php/Keeper_Ring.
11. "Promise Ring Meaning." Antique Jewelry Investor, accessed January 13, 2013. www.antique-jewelry-investor.com/promise-ring-meaning.html.
12. Schoening, Lisa and Kurt Rothner. "Why a Vintage Engagement Ring?" Excalibur Jewelry, May 5, 2012. Accessed January 13, 2013. www.excaliburjewelry.com/why-a-vintage-engagement-ring.
13. "Victorian Wedding Ring and Victorian Engagement Rings, The." Everything Wedding Rings, accessed January 13, 2013. www.everything-wedding-rings.com/victorian-wedding-rings.html.

*Clip art courtesy of The Graphics Fairy